POST SCRIPT
This booklet is not a proposal for a theocracy. It is quite the opposite. It is a proposal to stop a secular theocracy. Christ calls us to be free. Christ calls for freedom from any enslavement including Government. That is what God commands. This freedom can only be obtained through a free discourse of the Holy Scripture in society. Anything else results in bondage. When we lack knowledge about God and His word, we are in bondage and this is man's natural state without the Christian faith. It is not that Christianity needs the public square; God does not need anything. It is the public square that needs the freedom of Christianity.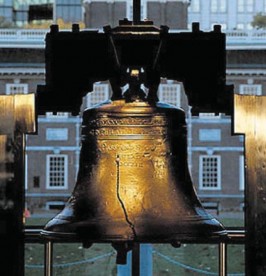 The Liberty Bell
ABOUT THE AUTHOR
In our first printed edition of this booklet I did not add my name as the Author. The reason I chose not to is because this booklet is about God's word and I don't take credit for any of it. All the credit and glory belongs to Him. However, since the first version of this booklet, I have become more familiar with a verse from my childhood through reading Dietrich Bonhoeffer's book The Costs of Discipleship and Matthew Henry's commentary on the same verse. That verse is Matthew 5:16, and it reads as follows: "Let your light shine before men, that they may see your good works, and glorify your Father which is in Heaven". I am also a sinner, saved by grace. As it says in the Scripture, what a man thinks is what a man is. I continually confess my sin as provided in 1 John 1:9, and know, that I am forgiven of those sins and cleansed of all unrighteousness.
Education
Marshall Bandy, Jr. was born in Ringgold, Georgia, as were his parents. He was educated in the public schools of Catoosa County. He graduated from Mercer University in Macon, Georgia, in 1971 with a degree in Political Science. He graduated from John Marshall Law School in Atlanta, Georgia, in 1975, and began his practice in Ringgold, Georgia, in December of 1975 as a sole practitioner.
Profession
Marshall has practiced before the Georgia Superior Court, Georgia Court of Appeals, Georgia Supreme Court and the Georgia Workers Compensation Board of Appeals. He has also appeared before numerousadministrativeagenciesincludingthe Departmentof Labor, Public Health and Public Safety. He has had extensive experience in practicing before the Georgia Public Service Commission. He has argued cases in the US 5th and 11th Circuit Court of Appeals, tried numerous cases before the US District Court for the Northern District of Georgia, and has extensive litigation experience in the
U.S. Bankruptcy Court.
Political Experience
Over the last forty-five years he worked to help local Republican candidates get elected. 1969-2000: Catoosa County Chairman Republican Party - six terms, 7th District Committee Member – two terms, State Committee Member - five terms, 1988: National Delegate to Republican National Committee in New Orleans for George H. W. Bush, 1988: Elected Parliamentarian of the Georgia Republican Party.
Media Experience
For ten years, he also was the owner of WSGC, a radio station in Chattanooga, Tennessee. He also built and operated the first cable TV system in Catoosa County from 1977-1979. Since 2005 he has been on the Board of Directors and President of Boynton Educational Radio which holds the license for WAAK FM LP.